Edible gifts crafted from high-quality Belgian chocolate.
We are a family owned chocolate shop located in New York and
each of our chocolates are individually hand crafted with high-quality
chocolate. Take a moment and explore all of our collections and find one that's
right for you!
Yours is not just a wedding... And this is Not Just Chocolate
Wedding, Bridal Shower, and Engagement custom handmade premium chocolate wedding favors ... that are as special and unique as you are!
Leave a lasting impression with a personalized gift for your guests. With your name along with a special message, these unique treats transform the ordinary into the extraordinary.
shop
Chocolate Assorted Treats
Brighten your day with an array of fun chocolate treats. Pretzels, marshmallows, lollipops and more. With a range of options, you can build a nice box for a gift or even to treat yourself
SHOP
Write It On Chocolate
Give a card for that special occasion that taste good too. Perfect for saying congratulations or for wishing other success. Be inspired and delighted with our unique customizable cards and favors.
SHOP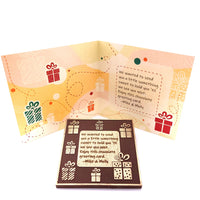 Say It In Chocolate
Whether you need to say: 'I'm sorry!', 'I Love You' or any other expression, find distinctive ways to get you feelings across with chocolate.
SHOP
Chocolate Figurines
Beautiful, hand-crafted, and luxury chocolates in numerous fine figurines. Ready to give for anniversaries, new arrival, special occasions, congratulations and much more.
SHOP